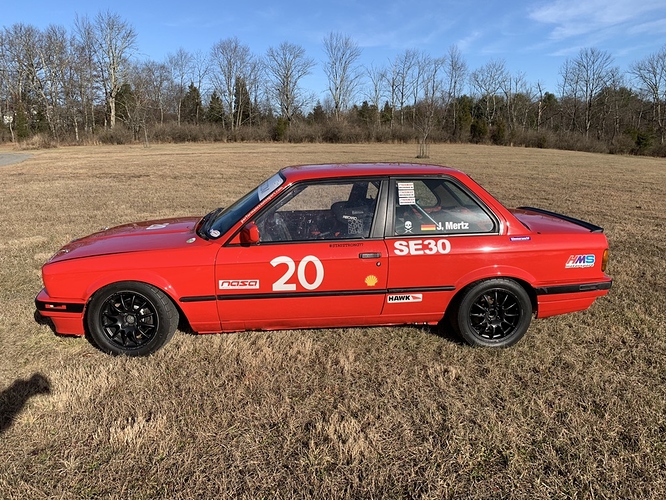 Overview
Very well developed and reliable sorted race car that is a consistent front runner. I'm sure someone with more talent could do even better.
This is a rare car with a slick top (no sunroof). Professionally maintained with all records. Upgraded to latest coil-over suspension in 2018. No money spared in keeping it race ready. This car is ready to race and needs nothing. Just got back from the body shop fixing all the dents and scrapes. Lots of new parts. It has been raced by me for the last 5 years.
Lots of spares including 3 sets of dry tires and one set of wets. All wheels are in almost new condition. Lots of spare parts including ECU and air box (AFM).
Details
Latest in-car video from the Glen YouTube
Original build thread - http://www.r3vlimited.com/board/showthread.php?t=154159
1991 318 slick top converted over to a Spec E30 by Guten in 2010
Paul Poore .020 overbore motor
Paul Poore cage w/ foot protection, driver NASCAR bars, passenger X
Paul Poore baffled/over-sized oil pan
Paul Poore spec exhaust
Condor Speed Shop window inserts
Spal electric fan
Racepak IQ3 display with data acquisition, monitors oil pressure, oil temp, water temp, water pressure, fuel level and throttle position, custom mounted using a Massive panel
Drivegear rebuilt transmission
Spec SB104 Stage 4 - 3 pad clutch kit
Spec SBA10 Aluminum pressure plate
Diff w/ Bimmerworld clutch packs and BMW Z3 finned diff cover
Recently aligned, scaled and corner balanced (50% cross weight)
Recaro Hans Pro Racer HALO seat (surgical tubing for restraining the lap belts)
VAC seat brackets
VAC floor mount
Sparco steering wheel with Momo hub adapter and Sparco quick disconnect
Scroth HANS Profi II harnesses
Scroth window net w/ Joes window net hardware
AKG shifter with the AKG DSSR (dual shear shifter rod)
AKG trailer tie downs on subframe
AKG front tow hook
AKG heater core delete kit
Guten center dash gauge panel with Paneltronics 4 switch panel
IS chin spoiler
Guten BMW Motorsports door handle
Guten black strut brace
BMW euro side mirror glass (wide angle)
Long Acre captive hood pins
Stock brake ducts
Harrison Motorsports brake duct adapters
Harrison Motorsports brake backing plates
Bimmerworld fog blanks
Diamond plate on driver floorboard
UUC clutch stop
UUC sway bars and adjustable drop links
Massive dead pedal
Cool shirt cooler w/ Cool shirt pan
Racing dynamic rear strut brace
Hawk performance brake pads - Front/DTC60, Rear/DTC70
ATE front/rear brake calipers w/ Turner Motorsports brass brake caliper guides
Bimmerworld wheel studs and nuts
Bimmerworld stainless brake lines
Kill switch
SPA Firefighter AFFF Fire System - 4L
H&R 20mm spacers front/rear
Lamin-x clear and yellow on headlights
Brake speed bleeders
Ground control camber plates
New Garagistic rear subframe
Garagistic rear camber toe adjusters welded in
Team Dynamics Pro Race 1.2 - 15x7 wheels - silver with 8 heat cycle Toyo RR tires
Jongbloed Racing Wheels - 15x7 wheels - silver with 5 heat cycle Toyo RR tires
Jongbloed Racing Wheels - 15x7 wheels - silver with 8 heat cycle Toyo RR tires
Team Dynamics Pro Race 1.2 - 15x7 wheels - black with 3 heat cycle Toyo RA "rain" tires
Condor speed shop - subframe bushings
Condor speed shop - trailing arm bushings
Condor speed shop - diff bushings
AKG - lollipop bushings
AKG - transmission mounts
AKG - engine mounts
Fuel test port
Hood removal via two clevis pin
New control arms
Lemforder tie-rods
Make: BMW
Model: 318is
Class: NASA Spec E30
Weight: 2700lb
Price: $18,500
Detailed for sale ad
https://drive.google.com/open?id=1FBXXIwK_cTerjxXpMyiUxxsxfj1kk7a5b8gq_HAZCh8
Either PM me for more info or send requests to goldie83@ptd.net